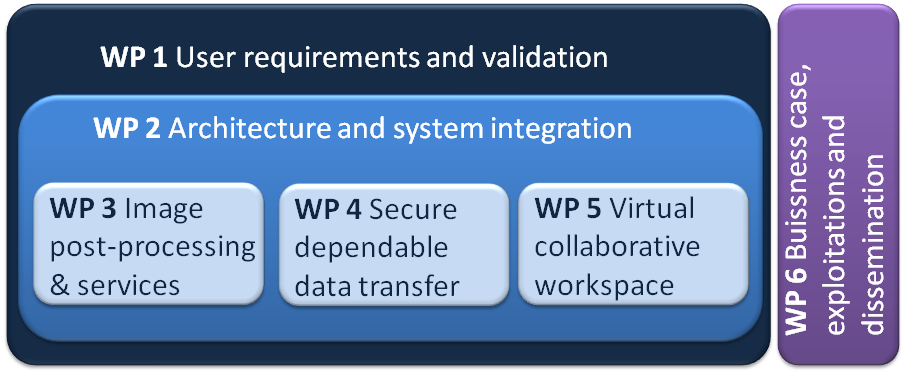 Work Package 1 (leader: Bram Hoefnagel – Philips Healthcare, NL) 
User Requirements & Validation : provides the list of user requirements able to answer the MEDUSA Use Cases. 
Work Package 2 (leader:  Henk van den Brink – Technolution, NL) 
Architecture & System Integration: offers the framework for designing, specifying and integrating the MEDUSA platform.
Work Package 3 (leader:  Henk Marquering – Academic Medical Center, NL) 
Image processing & services: provides advanced image processing (remote) services for medical diagnosis.
Work Package 4  (leader:  Adrien Philippe Bécue – Cassidian CyberSecurity, FR) 
Secure, dependable data transfer: ensures the all in one security pass, affording medical oriented data protection.  
Work Package 5 (leader:  Mihai Mitrea – Institut Mines-Telecom, Telecom SudParis, FR) 
Virtual collaborative workspace: provides the medical users with the means to collaboratively inter-operate from different individual remote locations.
Work Package 6 (leader: Frédéric Soinne – Bull, FR) 
Business Models, Exploitation & Dissemination: enables the adoption of MEDUSA on the market and fosters for its scientific and standardization needs.